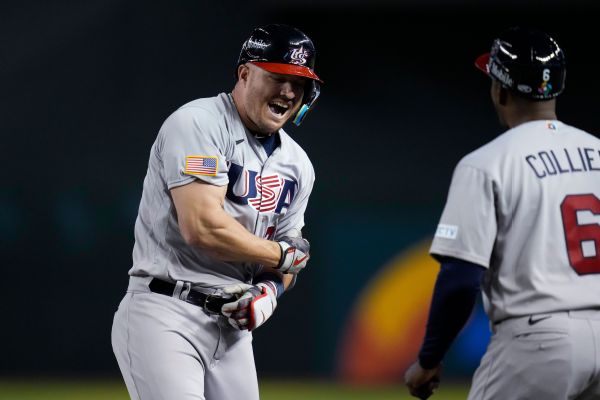 PHOENIX — Team USA advanced to the quarterfinals of the World Baseball Classic with a 3-2 win over Colombia on Wednesday, tying Mexico for top honors in Pool C.
The U.S. will play Venezuela in Miami on Saturday after the latter won its bracket with a 4-0 record.
Team USA was led by stars Mookie Betts and Mike Trout in the clinching win. They combined to go 5-for-8 with Betts scoring twice and Trout driving in all three runs.
Both shook off any spring rust to propel their team to the next round.
"I just think he's one of the best players of all time," Team USA manager Mark DeRosa said of Trout after the win. "He's just super confident in what he's able to do. Just a big moment for him."
Trout is the first U.S. player to have a 3-hit, 3-RBI game since DeRosa did it against Venezuela in 2009, according to ESPN Stats & Information research.
Both Trout and Betts expressed how much fun they are having playing for Team USA, indicating the injury risk is worth the reward.
"This is the [most fun] experience I've had in baseball, to represent your country," Trout said. "It's been a blast. Being part of this atmosphere means a lot to me. I knew going in it was going to be a fun time. I never knew it was going to be this fun."
Betts added: "This is way better than getting four at-bats on the back fields."
The U.S. needed to win or essentially lose to Colombia by three or fewer runs to advance. The Americans were down 2-1 after three innings but erased that deficit when Trout singled home two runs in the fifth.
Six relievers followed U.S. starter Merrill Kelly, who pitched three innings, giving up four hits and the two runs. Team USA's bullpen gave up just two hits over the final six innings as Ryan Pressly earned the save.
DeRosa raved about his pen, describing pitchers such as Devin Williams and David Bednar as being in midseason form.
"They all have to be great," DeRosa said. "It comes down to the players. You can sit up all night and script and plan it. They have to execute."
Both Mexico and the U.S. went 3-1 in pool play but Mexico emerged as the higher seed by virtue of beating Team USA on Sunday. Mexico will play Puerto Rico in another quarterfinal matchup on Friday.
The U.S. beat Great Britain, Canada and Colombia in Round 1.