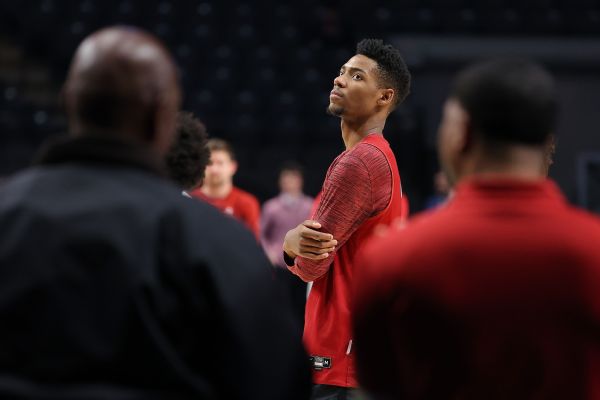 BIRMINGHAM, Ala. — Less than 24 hours after Alabama forward Brandon Miller was held scoreless in the first round of the NCAA tournament while dealing with a groin injury, coach Nate Oats cast some doubt on his star player's availability against Maryland on Saturday.
Oats said Miller would not participate in the live portion of practice Friday as he continues to rehab. But Oats added that he was hopeful Miller, the team's leading scorer and a projected NBA lottery pick, would play.
"I think he's going to be alright," Oats said. "It seemed like … it bothered him [against Texas A&M-Corpus Christi on Thursday]. He didn't shoot it particularly well, but it seemed like he was moving decent. So we just have to get his confidence back that he can play with it."
Miller, who initially injured his groin Sunday in the SEC tournament final, was held scoreless for the first time all season while playing 19 minutes in Alabama's 96-75 win.
He downplayed the injury in the locker room after the game but was more open about receiving treatment Friday. As long as he can warm up and loosen the muscle, he said he feels 100 percent.
"It's good," Miller said. "Just taking it slow, day by day, step by step, really just getting it back to 100 percent."
Asked whether he expects to play against Maryland, Miller said, "Of course. I'm always going to play every game unless someone says something else."
Miller has had a standout season on the court as a true freshman, earning SEC Player of the Year honors. But off the court, he has been under intense scrutiny because of his alleged connection to the capital murder case in which former teammate Darius Miles and another man have been charged in the fatal shooting of 23-year-old Jamea Harris on Jan. 15. During a court hearing last month, a detective testified that Miles texted Miller asking him to bring Miles' gun in the early morning hours before the shooting.
Miller has not been accused of a crime, and the university has described him as a cooperating witness, not a suspect.
On Wednesday, Oats said Miller was provided armed security because of threats he had received. Miller said Thursday that he was focused and doing well mentally.
Maryland coach Kevin Willard, for his part, marveled at Alabama's depth and how well they played Thursday with Miller having an "off night."
"It's pretty impressive when you score 96 [points] and you don't need the second pick in the draft," Willard said.
Willard took it a step further, saying Alabama has the most talented roster he has seen since the 1994-95 Kentucky team that had seven future pros, including juniors Tony Delk, Walter McCarty and Rodrick Rhodes and freshmen Antoine Walker and Scott Padgett.
"This team reminds me of that team with the length, athleticism, how unselfish they play, very similar point guards," Willard said.
Oats raised his eyebrows at the comparison.
"That was a really talented team," Oats said. "Thanks for the comparison. I don't know that I should be saying thanks. That's a lot of pressure on us too."
Oats said he wasn't sure the Crimson Tide would put that many players in the NBA, but he did acknowledge that his team is athletic and has good depth, especially at point guard.
"I think he's also trying to talk our team up," Oats said. "I don't know that we're quite that good. We'll see. But he's got a really good team too. They're good. So we're going to have to play. I'll say this: We've got to play better defense tomorrow than we did yesterday."