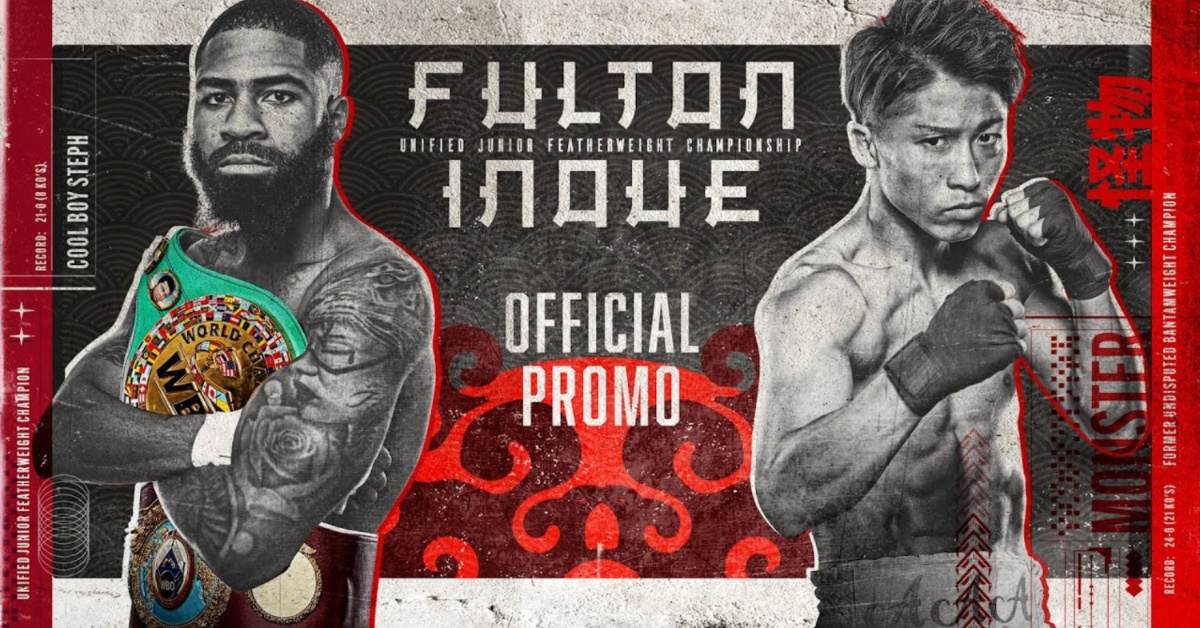 Undefeated Japanese star, Naoya Inoue will test bantamweight waters for the first time this week in a return to home soil, as he competes for unified and undisputed WBC and WBO championship spoils, against his fellow unbeaten, Stephen Fulton in the country's capital of Tokyo.
Slated to make a return to Tokyo this week in search of super bantamweight spoils, surging knockout star, Inoue will look to capture divisional gold in front of a partisan crowd – taking on Pennsylvania slickster, Fulton in a unified title showcase.
Boasting a stunning 24-0 professional record, Inoue, who most recently turned in his whopping twenty first professional knockout win, defeated Liverpool native Paul Butler in the penultimate round at the same venue as his title clash with Fulton on Tuesday.
First winning WBC light-flyweight gold back in 2014, Inoue defeated Adrian Hernandez in just his eighth professional fight.
And according to current lines over at Betway, Inoue is a resounding -400 betting favorite to add super-bantamweight gold to his glimmering trophy cabinet next week, over the +320 betting underdog, Fulton. 
Winning regular bantamweight spoils in 2018 with a knockout win over Jamie McDonnell in the very first round, Inoue would then capture super bantamweight gold in November, landing a unanimous decision win over the veteran, Nonito Donaire. 
Rematching Philippine veteran, Donaire in the summer of last year at the Saitama Super Arena in his native Japan, Inoue would turn in his second career win over the star, stopping him inside just two rounds to retain the WBA and IBF bantamweight title, and clinching the WBC crown. 
A professional for the last nine years, the undefeated, 21-0 Fulton first won super bantamweight gold under the governing body of IBO, with a 2019 unanimous decision win over Paulus Ambunda in Virginia. 
Winning WBO super bantamweight spoils in 2021, Fulton would defeat Angelo Leo in a unanimous judging win, before turning in a pair of decision wins over both Brandon Figueroa, and Daniel Roman – the most recently back in June of last year in Minnesota. 
A massive knockout threat, Inoue has a better chance than Fulton to land a stoppage victory on Tuesday in their Tokyo title fight, with the 30-year-old currently listed as a -117 betting favorite to win via KO, TKO, or by way of disqualification in their super bantamweight championship tangle over on Betway. 
Furthermore, between rounds six to nine, Inoue can be backed currently as a heavy -1,200 betting favorite to stop the bout in those specified frames, the most likely according to odds at the time of publication. 
Closing as a notable favorite to land super bantamweight spoils against Fulton this week, Inoue ultimately closed as a gargantuan betting favorite as high as -3,000 for his aforenoted knockout win over Bulter last year in Tokyo to boot. 
A decorated world champion across a slew of weight classes, Inoue, who racked up a jaw-dropping seven separate successful title defenses at 115lbs, has been picked by a slew of his fellow world champions and peers to turn in a memorable title winning-performance against the incumbent Fulton on home soil in the 'Land of the Rising Sun'.