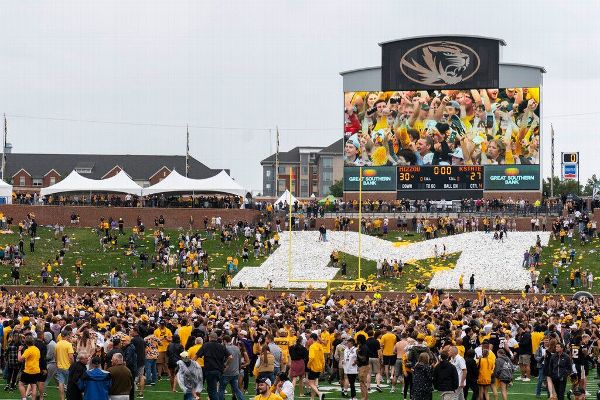 COLUMBIA, Mo. — Harrison Mevis kicked a 61-yard field goal with no time remaining Saturday, sending Missouri to a field-storming, come-from-behind 30-27 victory over No. 15 Kansas State in a nonconference showdown of former Big 12 rivals.
The Tigers had a chance to give their big-legged kicker a shorter attempt after Brady Cook had driven them into Kansas State territory in the final seconds. But after huddling on the sideline, Missouri coach Eli Drinkwitz was too slow getting his field-goal unit onto the field, and the delay-of-game penalty pushed the Tigers back 5 yards.
Cook proceeded to throw an incomplete pass in the final seconds, but it left just enough time for Mevis to make some magic. 61 yards is the longest field goal in SEC history, according to ESPN Stats & Information research.
Cook finished with 356 yards passing and two touchdowns for the Tigers (3-0), despite hobbling around on a sore leg. Luther Burden III had both of the scoring grabs, finishing with seven catches for 114 yards in another star-making performance.
Will Howard threw for 270 yards and three touchdowns with an interception for the Wildcats (2-1), who had plenty of chances to put the game away but kept coming up short on crucial third downs.
Ben Sinnott added 78 yards receiving and two of the TD catches for Kansas State.
The Wildcats started off like they finished a year ago in the rain, when they rolled to a 40-12 victory in their first meeting since Missouri left the Big 12 for the SEC. Howard hit four different receivers while swiftly marching Kansas State down the field, and his third-and-goal throw was tipped by the Tigers' JC Carlies and into the hands of Phillip Brooks for the score.
Rather than begin a blowout, the touchdown merely started a back-and-forth affair.
Cook answered with a 47-yard touchdown heave to Burden, who spent most of the game making the Kansas State secondary look silly. And after Howard threw a pick into tight coverage, Mevis' field goal gave Missouri the lead.
When the Wildcats responded with a swift touchdown drive, the Tigers needed two big plays and about 2 1/2 minutes to score again. Cook finished the drive with a short run to send them into halftime with a 17-14 lead.
The Tigers' quarterback appeared to hurt his leg late in the first half, though, and the offense began to struggle without Cook's running ability to put pressure on the defense. Missouri punted twice to start the second half, and the Wildcats turned the first into a long field goal by Chris Tennant and the second into Howard's second TD pass to Sinnott for a 24-17 lead.
The Tigers tacked on a field goal early in the fourth quarter, but only after squandering a first-and-goal opportunity.
The Wildcat had two chances to put the game away with a touchdown drive, but twice they failed on short third downs. And when Missouri took over after Howard's third-and-1 pass fell incomplete, it took two plays — Cody Schrader's 26-yard run and a personal foul penalty, and Cook's 26-yard TD pass to Burden — to cover 77 yards and give Missouri a 27-24 lead.
Kansas State squandered another third down, this time at the Missouri 3 with 5 1/2 minutes to go, when Howard lost track of time and was called for delay of game. The Wildcats had to settle for a tying field goal and a frantic finish.
The Associated Press contributed to this story.