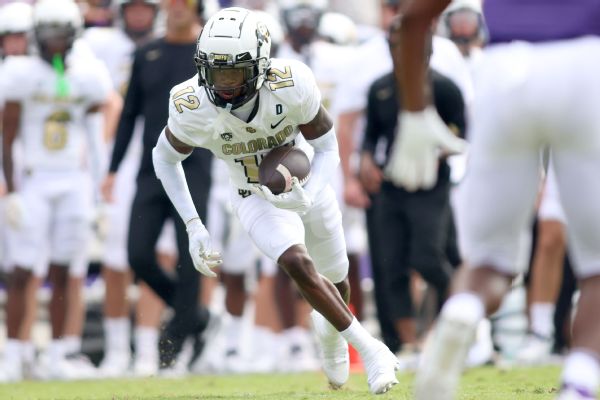 BOULDER, Colo. — Colorado two-way star Travis Hunter left Saturday night's 43-35 double-overtime victory over Colorado State after taking a hard sideline hit in the first half.
Coach Deion Sanders had no update after the game other than to say, the "first thing I heard is he's going to be out a few weeks." Hunter was taken to a hospital during the third quarter for an evaluation.
Sanders did not specify Hunter's injury.
"The bad thing about losing Travis," said defensive back Shilo Sanders, "it's like you're losing two players at once."
Hunter absorbed an illegal hit to his midsection in the second quarter on an incompletion at the Colorado sideline. Colorado State was whistled for two fouls on the play that Hunter got hit. Safety Henry Blackburn was flagged for pass interference and nickel back Ayden Hector was assessed a foul for unsportsmanlike conduct after a late hit out of bounds at Hunter's midsection.
Hunter, who earlier coughed up a fumble that was returned for a touchdown, returned to the game, playing on both offense and defense through the second quarter.
The Buffaloes trailed the Rams 21-14 when Hunter was transported to a hospital but rallied for its third straight win to start the season.
Along with Buffs quarterback Shedeur Sanders, Henry has been mentioned as an early candidate for the Heisman Trophy after playing both cornerback and receiver.
Information from The Associated Press was included in this report.