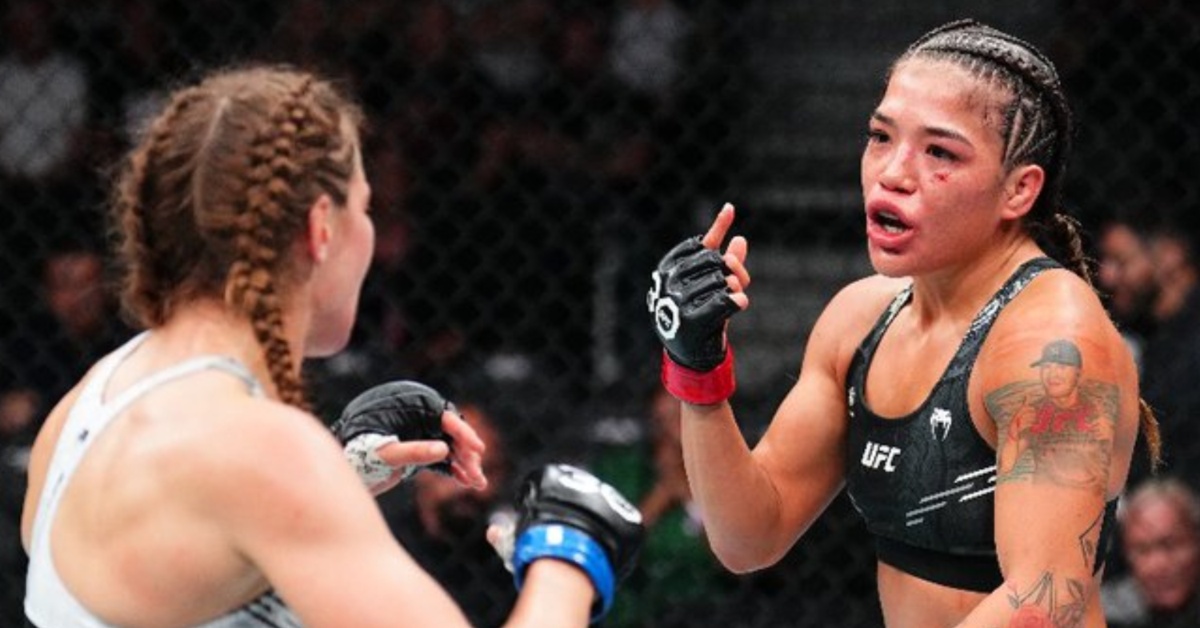 Tracy Cortez remained undefeated inside the Octagon at Noche UFC, scoring a unanimous decision victory over Jasmine Jasudavicius.
Both women landed some solid strikes in the opening minutes, but Cortez began to let her hands go near the halfway point of the first round, scoring some solid combinations, including a big right hand that snapped Jasudavicius' head back. Tired of being a punching bag, Jasudavicius attempted to shoot in for a takedown with 90 seconds to go, but Cortez defended perfectly. A minute later, Jasudavicius closed the distance and landed some solid knees in the clinch, but Cortez was again able to defend and separate to close the round.
Tracy Cortez picked up right where she left off in the second round, counter-striking as Jasudavicius attempted to pressure Cortez against the fence. Halfway through the second, Jasudavicius secured her first takedown of the fight, but Cortez was able to work her way back up. Switching to a double leg, Jasudavicius dragged Cortez back down, but it wasn't long before Cortez again fought her way upright and finished the round on her feet.
With the bout potentially even, Jasudavicius appeared to be much more confident in the third, closing the distance early and backing Cortez up against the fence. Able to once again defend the takedown, Cortez freed herself from the grip of Jasudavicius and escaped. Jasudavicius remained relentless, putting a ton of pressure on Cortez. With just over a minute left, Jasudavicius landed a nice knee up the middle followed by a glancing head kick.
Things got a little chippy between both women as the clock ran down, closing a fantastic three-round war between two of the flyweight division's most promising prospects.
Official Result: Tracy Cortez def. Jasmin Jasudavicius via unanimous decision (30-27, 30-27, 29-28)
Check Out Highlights From Tracy Cortez vs. Jasmine Jasudavicius at Noche UFC Below: