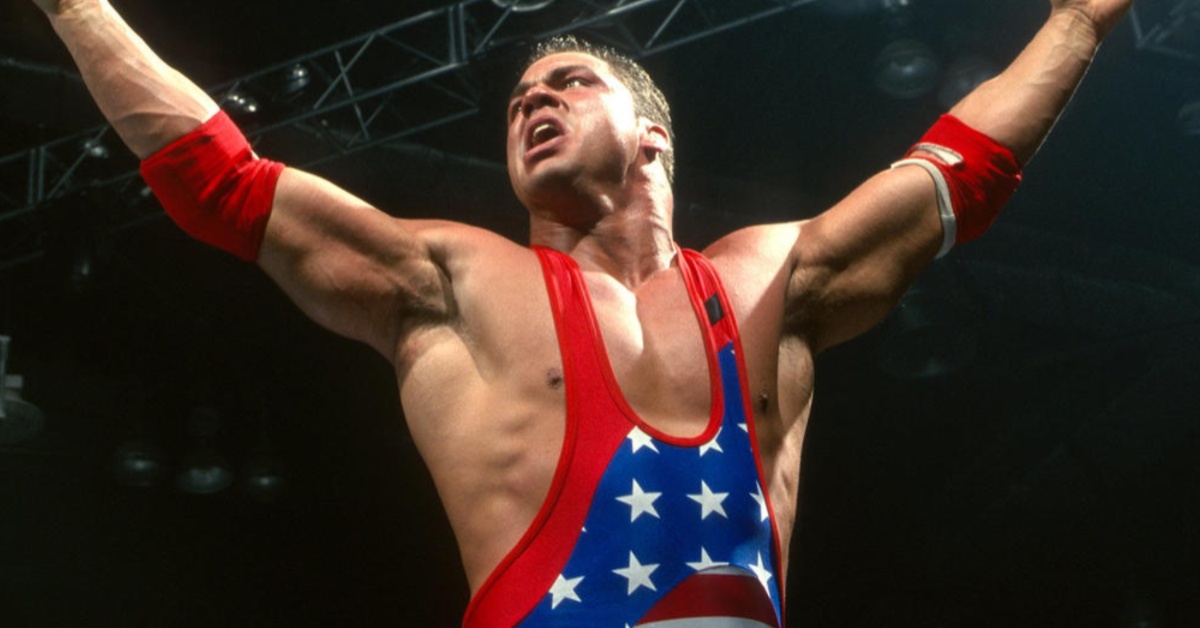 WWE Hall of Famer and Olympic gold medalist Kurt Angle would have jumped at the chance to test his skills inside the Octagon had it not been for a contract with TNA.
Angle, who won a freestyle wrestling gold medal at the 1996 Summer Olympics, revealed during an appearance on The True Geordie Show that the UFC had contacted him in the late 90s after his victory in Atlanta. However, with the promotion still in the developmental stages, they were unable to offer a deal worthy of his time and talent.
"I don't know if I would have been champion, but I definitely would have joined the UFC. I would have signed with them," Angle said on the show.
"They contacted me in 1996, right after the Olympics. They offered me a 10-fight deal for $150,000. That's $15,000 a fight. What it is now today, these guys are getting $16-18 million a fight on pay-per-view now, you know, Conor McGregor and Brock Lesnar and Ronda Rousey. So I passed on it, and I started wrestling in 1998 with WWE."
Kurt Angle would go on to become one of the most successful professional wrestlers of the WWE's infamous Attitude Era, claiming the European, Intercontinental, and WWF Championships in his first year with the organization. He was also crowned the 2000 King of the Ring and made it to the finals of the tournament the following year.
Even with his incredible success in sports entertainment, Angle was still itching to make a run in the UFC.
"By 2000, UFC started becoming mainstream. I was like, man, I'd love to do that," Angle continued. "Literally half a year later, I broke my neck again, and that was it. When I broke my neck again, I lost all my strength in my arms. I lost feeling in my hands. To this day, I have no feeling in my pinky fingers and my pointer fingers. There was no way, even though I entertained it in 2006."
Kurt Angle Reached out to Dana White in 2006 Following his WWE Exit
Parting ways with the WWE in 2006, Angle did more than "entertain" the idea. He revealed that a conversation with Dana White took place as the UFC was gearing up for one of the biggest seasons of its long-running reality series, The Ultimate Fighter.
"I went to Dana White in 2006 and said, 'Hey, I'm ready.' He offered me a deal," he revealed. "He wanted me to be on The Ultimate Fighter with Kimbo Slice.
"I said, 'Dana, those guys don't get paid to be on that show.' He said, 'Don't worry, I'll pay you a substantial amount of money just to be on it. I'll take care of you.' I was getting ready to do it, and I ended up signing with TNA a week prior."
His contract with TNA is what ultimately ended Angle's UFC dreams.
"I thought that I could do both, which was crazy, it was stupid. TNA was gonna give me a part-time contract, so I figured I could train UFC as well," Angle admitted.
"So I told Dana, 'I just signed with TNA. Can I do both?' He said, 'No, you can't do both.' I said, 'Dana, I have to respect this contract I have with TNA. I'll come back to you if my contract expires in a decent amount of time and I'm still at an age that you want me, I'll come back to you.'"
In 2013, Kurt Angle was inducted into the TNA Hall of Fame. Four years later, he was inducted into the WWE Hall of Fame making him just the second wrestler to feature in both hallowed halls. Angle has won over 21 professional wrestling championships and is an overall 13-time world champion.