Three-time All-Star and 1984 World Series champion Willie Hernandez has passed away at the age of 69 after a yearslong battle with a heart condition, per a report from La Primera Hora — a newspaper in Hernandez's native Puerto Rico. The former American League MVP and Cy Young winner (both in a standout '84 campaign) had been dealing with heart troubles for around 15 years, his wife tells La Primera Hora. Hernandez himself told Matt Schoh of the Detroit News back in 2019, after throwing out the first pitch during the Tigers' season opener, that he nearly died in 2007 while having a pacemaker installed in his heart.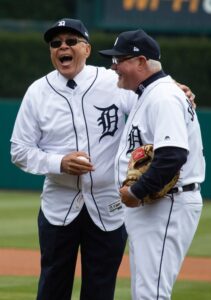 Hernandez is one of just 10 pitchers to ever capture both a Cy Young Award and an MVP in the same season — and one of just three relievers to accomplish that feat (joining Hall of Famers Rollie Fingers and Dennis Eckersley). The lefty's 1984 campaign was indeed sensational; Hernandez led the Majors in both appearances (80) and games finished (68) while piling up a hefty 140 1/3 innings of relief. He saved 32 games that season and pitched to a pristine 1.92 ERA. He'd go on to add another 9 1/3 innings of 1.93 ERA ball in the postseason, including a pair of saves during a World Series that the Tigers won over the Padres.
That '84 season kicked off a run of three consecutive All-Star appearances for Hernandez and was just one of many brilliant seasons over the life of a 13-year big league career. Hernandez made his MLB debut with the Cubs as a 22-year-old back in 1977, pitching to a terrific 3.03 ERA in 110 innings. He'd ultimately spend six-plus season in a Cubs uniform, pitching to a collective 3.81 ERA in that time.
Chicago traded Hernandez to the Phillies in May of 1983, and Hernandez delivered 95 2/3 innings of 3.29 ERA ball for the Phils en route to a World Series appearance. Philadelphia fell short to the Orioles in the '83 Fall Classic, but that wasn't due to any fault of Hernandez, who fired four shutout frames with four strikeouts during the series.
The Phillies traded Hernandez to the Tigers the following spring, and he went on to spend six seasons in Detroit, where he worked to a collective 2.98 ERA thanks in large part to his often unhittable screwball. His time with the Tigers included the vast majority of his career highlights: all three All-Star appearances, the Cy Young and MVP nods, and of course, the 1984 World Series championship. Elbow troubles in his age-34 season ultimately put an end to Hernandez's pitching career.
All in all, Hernandez appeared in 744 Major League games, pitching to a lifetime 3.38 ERA with a 70-63 record, 147 saves and 788 strikeouts in 1044 2/3 innings. His postseason work tacks on another 13 2/3 frames of 1.32 ERA ball and three more saves. We at MLBTR express our condolences to Hernandez's family, friends, former teammates and fans.